The Beal Bank USA Southern Nevada Regional Science & Engineering Fair promotes an interest in mathematics and scientific studies for elementary, middle, and high school students in Clark and other regional counties. Held at UNLV, the fair is sponsored by Beal Bank USA and is hosted by UNLV's College of Sciences.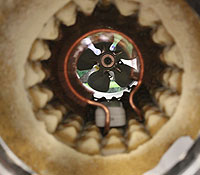 The fair is divided into three divisions: elementary (grades K-5), middle school (grades 6-8), and high school (grades 9-12). Affiliation with the International Science and Engineering Fair (ISEF) requires that high school students follow guidelines established by the ISEF. Rules for the elementary and middle school divisions are determined by UNLV and CCSD, and are consistent with but not identical to (at an age-appropriate level) the rules for the senior high division.
For more information on Beal Bank USA and its founder, Andy Beal, go to www.bealbank.com and www.andrewbeal.com.
Contact
Shane Bevell
Science Fair Director
4505 S. Maryland Pkwy.
Box 454001
Las Vegas, NV 89154-4001
Campus Location:
MPE
136
Phone:
702-895-2079
Fax:
702-895-4159
Email:
sciencefair@unlv.edu